Excel timesheet template vs. automatic time tracking software
Free 14-day trial. No credit card required.
By signing up, you agree to our terms and privacy policy.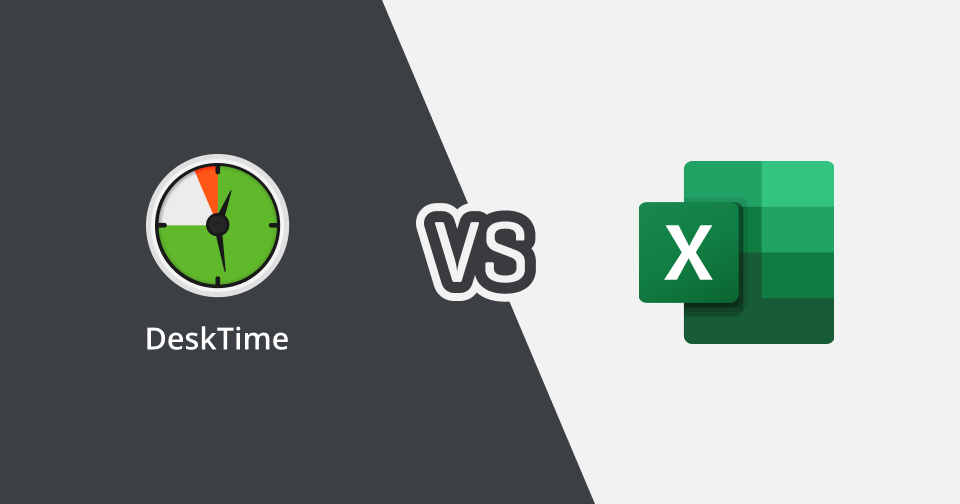 To this day, an Excel spreadsheet with a simple timesheet template remains a popular way to track hours worked for teams. Anyone can make them, anyone can use them, anyone can analyze them - it's just so convenient, right?
Maybe. The beautiful rows and columns with nicely defined ranges and sophisticated formulas can be a minefield of manual errors and become increasingly draining as your team grows in size. Managing 10 people in your employee timesheet is all well and good, but 100? You're just begging for tedious work, errors, and huge, terror-inducing sheets.
But, hey, maybe your system works fine and you've found the perfect time management Excel template. If so, props to you!
However, for most other people still doing time tracking in Excel or Google Sheets, it's often a real nuisance that's still used just because that's the way things have been done for years. Even if your an Excel timesheet fan, you've probably got some grievances.
For example:
You've noticed that manual data input might give you a sense of control, but it just takes too much time - especially with many projects or teams to juggle.

It's not that simple to calculate more advanced metrics like billable hours and project costs.

You suspect that some data may be inaccurate (because employees sometimes forget to enter the time spent on work or enter incorrect hours).

Mistakes happen, like writing incorrect formulas or entering numbers in the wrong column.

Someone can accidentally delete a cell, a line or even the whole spreadsheet.
With these drawbacks in mind, it's no wonder that many companies choose to switch to automatic work time tracking or combine their excel spreadsheets for time tracking with automatic software.
In this post, we'll show you why you should also consider it and how to make it work.
Why switch from timesheet spreadsheets to automatic time tracking?
It sure is tempting to stick to the old and familiar way of tracking your team's time and progress. But consider these points before you click another weekly timesheet template for Excel download button.
1. Excel template time tracking is getting outdated
Microsoft Excel or Google Sheets might have worked great when your team consisted of five or ten employees. But, once a company nears 20 or 30 workers, the harsh truth becomes apparent - it's difficult to scale from an Excel sheet.
In other words, Excel is not flexible enough for the fast-changing times that we live in. What if the scope or the direction of a project changes significantly or if time registrations need to be moved or edited? The spreadsheet giant has to give the stage to more advanced and user-friendly solutions that can meet a growing company's needs for more complex calculations.
2. Managing employee timesheet templates is time-consuming and expensive
Let's say your company uses an Excel template for time tracking. Each employee has his or her own spreadsheet for time registration with a tab for each week. At the end of the month, work timesheet spreadsheets are typically saved to a company server for data consolidation and invoicing.
Each company does this consolidation in a different way, and many still do it manually or semi-manually. The end result and analyses are generated into a report spreadsheet.
The main question here is this:
Who performs this responsible and time-consuming task?
It's possible that there's so much work that you've outsourced or even hired someone to manage all the monthly timesheet templates.
Now, think about how much time (and money) you would save if you could automate all these tasks?
An automatic time tracking software like DeskTime costs less than $180 per month for a team of 30 people, and does all the tracking, reporting, and analyzing for you.
3. Automatic time tracking software prevents mistakes
A half an hour worth of miscalculation won't harm your business, right? But what if this mistake happens several times per month for each employee? That can quickly accumulate into tens of hours lost every month. And that CAN harm your business.
Delonix Marketing Corporation is an example of how a company can benefit from introducing automatic time tracking. Before switching to DeskTime, their employees were required to log in when they arrived at work and log off when going on a break. Naturally, people sometimes forgot to do that. Furthermore, the employees could sign in at any time, but that did not mean they were actually working.
4. Create visual reports even easier than with Excel spreadsheets.
Do you love creating visual reports and think that Excel is the best in that?
It's true that Microsoft Excel was originally developed for advanced reporting features. But nowadays software has advanced even further and time clock apps like DeskTime already prepare handy visual reports for you.
You can easily translate all your tracked data into clear and professional reports that visualize your productivity and profitability. Your management and your customers will definitely appreciate the opportunity to have clear insights on budget spend, task progress, and team activity.
In DeskTime, you can access daily or weekly productivity graphs as well as see the convenient calendar view for the monthly reports with the absent days, start and finish time.
5. Improve work-life balance, track productivity, and oversee resources in remote scenarios
With the pandemic pushing many companies to adopt a remote work model, it can be a difficult switch for teams everywhere.
Unlike employee timesheets, automatic time tracking software like DeskTime runs in the background and tracks not only the hours spent working but also the use of productive and unproductive apps. This allows employers to see where resources go and helps employees boost their efficiency by focusing on meaningful work rather than just tracking time spent in front of the screen.
DeskTime is often used to improve work-life balance, which tends to suffer in remote work scenarios. By tracking their own hours, employees know when exactly the workday is over and it's time to switch off.
How to use time tracking software with Excel timesheet templates?
If you're not ready to break up with your Excel timesheet spreadsheet yet, you can still make your life easier by using it together with your time tracker.
1. Export your overview reports into XLS format
You can convert your reports into Excel sheets - the same way as if you were doing your time tracking in a spreadsheet!
In DeskTime, there are 11 report types available to export in XLS format:
Team members

Applications

Productivity bar apps

Window Title

Offline time
Projects

Projects/Team members

Projects/Apps

Absences

Work Schedules

Overtimes
You can export daily, weekly, and monthly reports from DeskTime into XLS files. Simply select the projects, groups, or individual employees whose performance reports you'd like to export.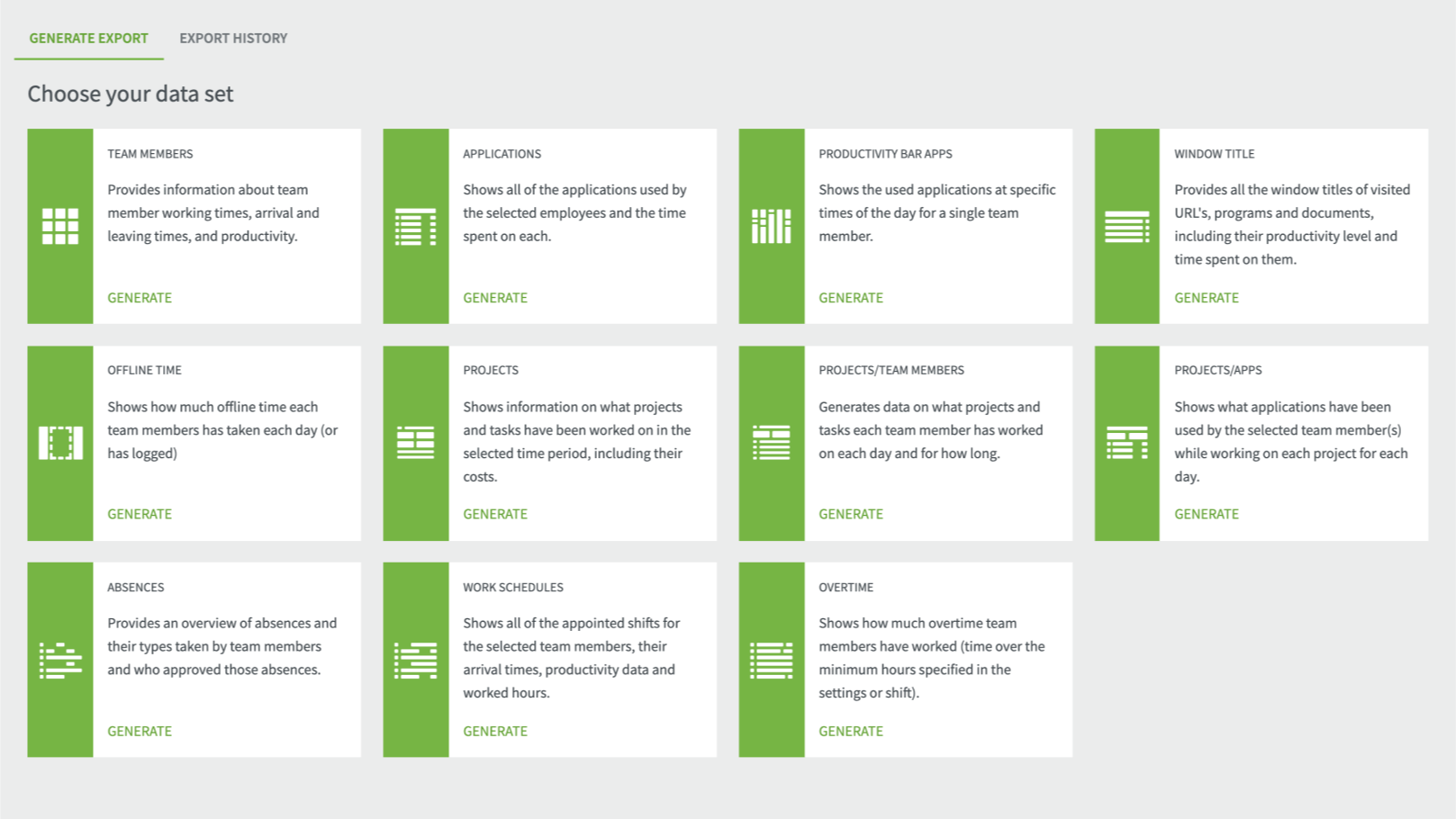 Once you've downloaded the XLS report, you'll be able to sort elements such as groups, productive/unproductive/neutral time, total time, offline time, arrival time, etc.
You can download the free DeskTime timesheet template here to make the most of customizable Excel spreadsheet reports.
2. Calculate wages based on hours worked
If you're paying hourly wages, you know the importance of having a reliable system for calculating the exact hours of work done. Here's how you can do it after you've exported a report table from DeskTime.
Create a Pivot table and create a graph based on the data that interests you. Drag and drop the values you want to calculate into the correct spaces. You'll get a table with employee names on one side, and the days of the month on the top, and you'll be able to see the time that each employee has worked.
3. Follow project costs
In DeskTime, you can conveniently track time for specific projects and tasks within them. You can use this feature to manage your team or for your individual use. If you have a team project, team members can add their individual tracked time to one shared project. All tracked time will be summed up in the total project time.
The best news? If you decide to use the Project costs feature, DeskTime will do it for you automatically. Learn more about DeskTime Projects and costs here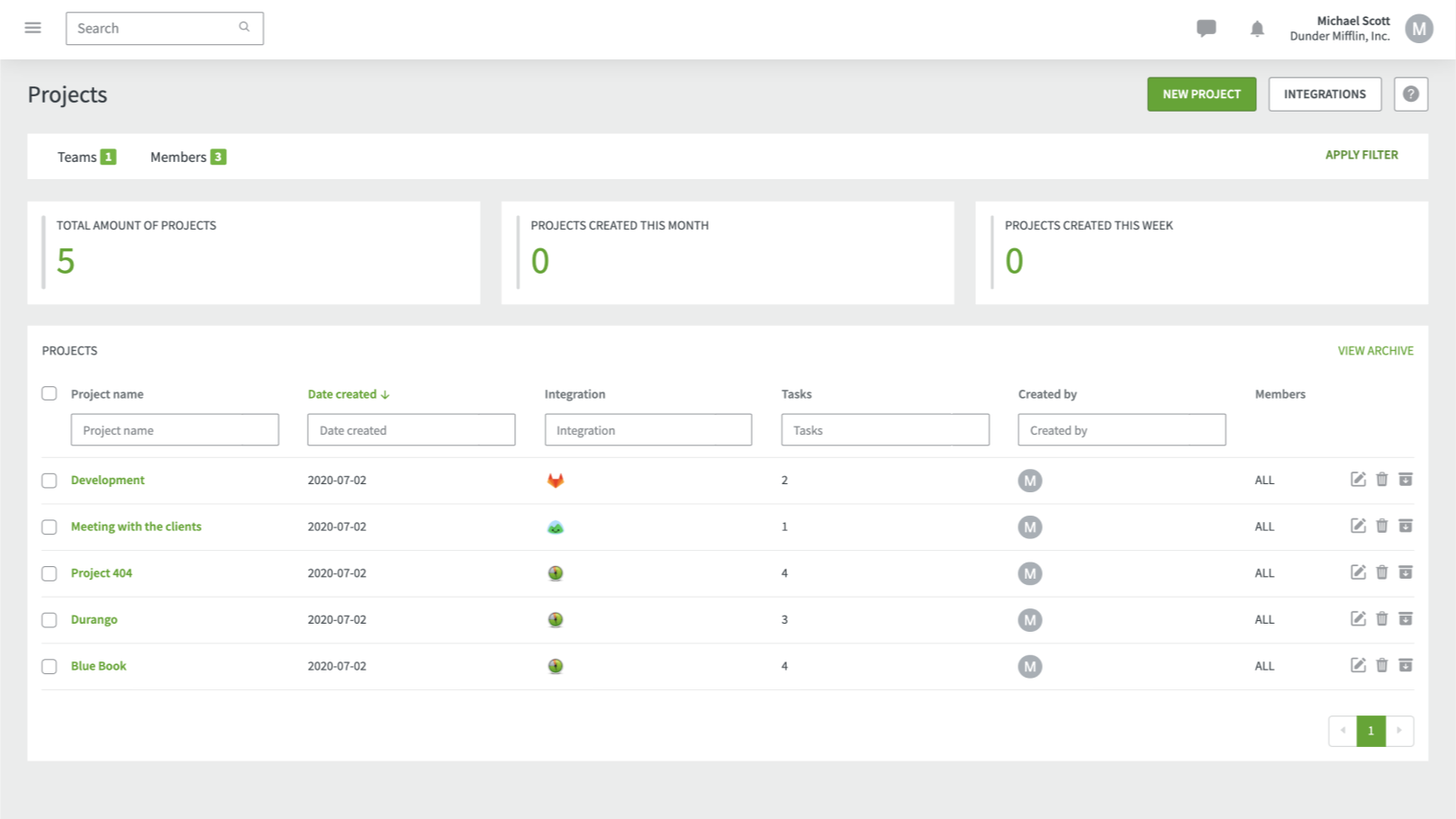 You can work with the Projects feature solely on DeskTime or you can export two types of project reports as XLS files:
Download DeskTime Timesheet template
DeskTime - an alternative to Excel time tracking templates
Sure, there are people who can manage Excel to order a pizza for them, but is it worth the time and the intellectual effort put into this business area that can be so easily automated?
The truth is - Microsoft Excel was never designed for efficient time tracking. But don't be sad - you can still use your Excel for budget calculations, graphing tools, and pivot tables.
But leave the automatic time tracking to DeskTime - it will replace the old school process of manually logging work hours and project costs and will help you and your team focus on your primary tasks.