Online employee time clock app
DeskTime is an employee time clock app that provides an online solution for tracking work hours and measuring employee productivity. This way your employees won't have to clock in and out manually every day – the app will do it automatically!
Access detailed employee productivity reports, letting you see who's just at work and who's actually being productive.
Free 14-day trial. No credit card required.
By signing up, you agree to our terms and privacy policy.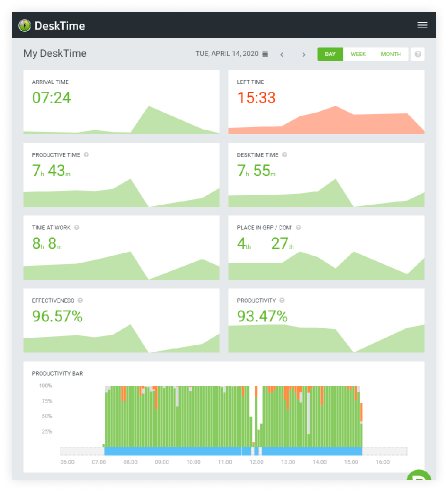 Clocking in and out automatically with the DeskTime time clock app
When employees have to mark their arrival and leaving times by manually clocking in and out, it often causes problems due to human error, leading to irregularities in the accumulated data. That's why modern clocking in apps, including DeskTime, do it automatically. No more manual work time recording for the employees. Be it arrival, leaving, or break time, the DeskTime time clock app tracks data automatically and precisely.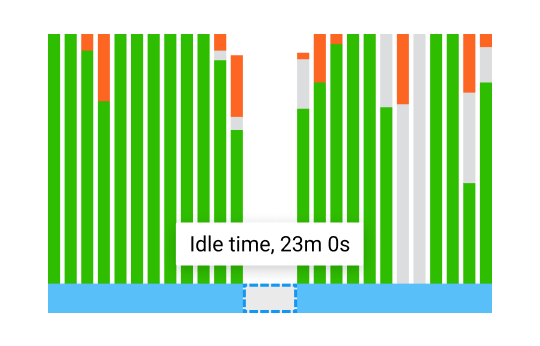 How it works
DeskTime's time clock app begins tracking employee's work time when the computer is switched on and stops the tracking when the computer is turned off. The app also automatically detects a lack of employee's actions on the computer – if the pause exceeds 3 minutes, the app goes idle. When an employee returns to the computer, DeskTime's time clock app goes back online. Workers can log the offline time as productive or let it remain as their break time.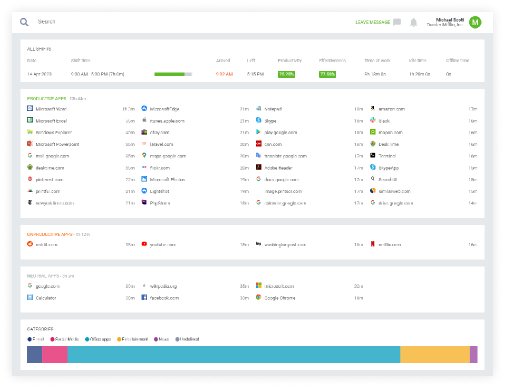 Real-time productivity metrics
In addition to the online employee time clock, DeskTime can offer many features as it is first and foremost a powerful time tracking and productivity app. Receive real-time reports on additional productivity metrics, such as which tools they were using, which tasks took up the most time, how productive the team has been, and so much more. Because data is delivered in real-time, you'll always be fully up to date.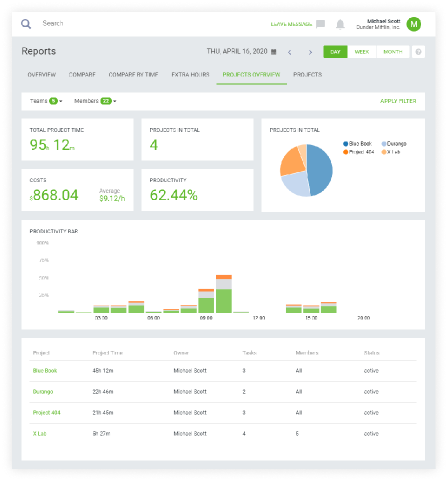 Use the employee time clock data for payroll management
The online time clock data collected by the DeskTime app for each employee is useful not only for managers who can track employee attendance but also for payroll management. It's especially useful if your employees are paid by the hour - the accounting department can simply use the reports provided by DeskTime to know the exact hours each employee has worked and then calculate their salary accordingly. Further to that, the absence calendar and shift scheduling features make it even more convenient, giving you the full picture of your team's working pattern.
Frequently asked questions
How to track employee attendance?
DeskTime time clock app automatically starts tracking employee work time when they arrive at their computer and stops tracking at the end of the workday or when they leave for a break. At the end of the day, week, or month, you can see employee arrival and leaving times along with productivity charts in the Reports section.
What happens if the employees forget to clock in?
This cannot happen unless the employee forgets to switch on his or her computer. DeskTime automatically starts tracking the time at work when the employee arrives at their computer and stops tracking at the end of the workday or when they leave for a break.
Is DeskTime's time clock app suitable for remote employees?
Yes! Since DeskTime works automatically in the background, all the actions of your employees will be tracked throughout the day without disrupting their work. You can check the performance of an individual worker or of a team whenever you feel that you need more control. Read more in this blog post on how to manage a remote team.
Can employees clock in and out on their mobile devices?
The DeskTime mobile app won't automatically track your employee attendance. However, employees can use the mobile time tracking app to add productive time spent on work-related activities while away from the computer, like having a meeting with a client.
What is an online time clock app?
The DeskTime online time clock app is a tool for time tracking, attendance tracking, and effective workflow management. It lets you be more organized and aware of how your team is performing on an everyday basis with simple time tracking software. You can plan and create shifts, manage absences, receive productivity reports for your staff, use the Project tracking feature to see who is working on what and for how long, and much more.
How do I access the employee time clock online?
To access the DeskTime employee time clock, all you need to do is create a DeskTime account. If you're a company owner, you can create an account for the company and invite team members to join. Once the account is created, you can start using the online time clock and track time via the desktop app.
Does DeskTime employee time clock prevent buddy punching?
Buddy punching occurs when one employee asks another employee to clock in on their behalf. Many business owners opt to utilize an employee time clock online to prevent buddy punching. Not only is the DeskTime online employee time clock password-protected, but it also only lets you track one account at a time from the same device. This way, if somebody does log onto their buddy's account their own working time won't be tracked.
What is the best time clock app for a small business?
A small business needs something simple-to-use, yet powerful and reliable. The Desktime employee time clock app is an excellent choice for those who want to optimize their overall efficiency. With real-time productivity metrics, automatic clocking in and out, as well as payroll management this time clock app is an all-in-one tool that's perfect for small businesses.