DeskTime vs. Clockify: compare the alternatives
Compare the DeskTime and Clockify alternatives side by side and choose the time tracking app that fits your needs.
Free 14-day trial. No credit card required.
By signing up, you agree to our terms and privacy policy.

The best features side by side
Features

Paid monthly

Lite – free for 1 user only PRO – $7 /user/mo Premium – $10 /user/mo Enterprise – $20 /user/mo

Paid annually

Lite – free for 1 user only PRO – $6,42 /user/mo Premium – $9,17 /user/mo Enterprise – $18,33 /user/mo

Additional discounts apply for teams.

Paid monthly:

Free for unlimited number of users Basic – $4.99/user/mo Standard – $6.99/user/mo Pro – $9.99/user/mo Enterprise – $14.99/user/mo

Paid annually:

Free for unlimited number of users Basic – $3.99/user/mo Standard – $5.49/user/mo Pro – $7.99/user/mo Enterprise – $11.99/user/mo

FREE trial
14 days
Pro 14 days
Time tracking
Automatic
Manual + Automatic option for the browser extension
Idle time tracking
Add time manually
URL tracking
Document title tracking
Reports
Individual project and task tracking
Auto screenshots
Project cost calculation
Employee absence tracking
Custom user settings
Stops automatically, no tracking after work hours
Automatic timer start/stop can be set up if using a browser extension
Private time option
IP restrictions for tracking
Productivity and efficiency analysis
Divide employees in departments
Employees can be divided into project teams
Live time tracking
Offline mode
Integrations with 3rd party apps
Shift scheduling
Desk booking
Looking for a Clockify alternative? Choose a time tracking tool according to your necessities
IF YOU NEED:
an automatic time tracking solution with an offline mode feature
CHOOSE:
Clockify is a timer-like time tracking app, whereas DeskTime offers an automated alternative. You don't have to worry about remembering to start or end your work time tracking timer since DeskTime starts automatically in the background whenever you turn on your computer. It doesn't require any manual data input to start tracking time at work, so you can dive into your tasks right away.
With Clockify, you can set up an automatic start/stop for the timer if you're using the browser extension. In that case, the timer will start and stop as you open or close the browser. However, it's worth noting that if you put your PC on sleep mode and leave the browser open, the timer will keep running. So you'll need to remember to close the browser to stop the time tracking.
Despite the impression that most work these days is done online, it's not always true. We all know that not every minute spent offline during your working hours is spent not working. There are, for example, meetings to attend and organize or tasks that just don't require screen time to be accomplished.
DeskTime offers an Offline time tracking feature that allows tracking hours spent away from the screen. With this feature, you can manually add offline time as your working time, so it's not automatically tracked as off-time. It lets you provide details about the tasks that were done while away from the computer and mark the time spent elsewhere as productive, unproductive, or neutral. Offline time tracking adds more accuracy to client billing and time management, and it keeps you updated on what your employees or team members have been up to.
This function can also be set to approve-only, which means an admin will have to approve all offline time entered. From the employer's perspective, this ensures the legitimacy of the data entered.
IF YOU NEED:
a basic unpaid timer-like time tracking option
CHOOSE:
If you're looking for a simple solution and don't need productivity or efficiency analysis and other similar features, Clockify's free version can be a good fit. However, during the Clockify review a question came up – is the Clockify free version really free?
The Clockify app offers an unpaid version that provides the most basic time tracking functionalities. This may be a suitable option for self-employed people or companies that need the simplest timer-like time tracking app. However, if you'd like to upgrade your time management game and would find features like document title tracking, absence calendar, or shift scheduling useful, you should look for a different tool or upgrade the free Clockify version to a paid one.
Although the basic functions that Clockify offers are fine, none of the versions (free or paid) track apps and URLs that have been visited during the work day. This means that the tool cannot really measure if your time at work has been productive, as it only tracks the amount of work time, not its content.
If you'd like to have more control over the use of your time, DeskTime could be a better alternative. It will track the apps and programs that you use and the URLs you visit, and in the end you'll be able to see if you've spent your work hours doing productive work or browsing online stores and scrolling Facebook.
IF YOU NEED:
a tool that helps you with absence management and shift scheduling
CHOOSE:
For the convenience of, well, everyone, it's always useful to have a coordinated place for keeping track of absences within your team or company. It helps not only the HR department but also lets the entire team plan ahead since everyone can schedule vacation days in a timely manner. The feature offers various absence reasons, such as conference, parental leave, business trip, vacation, unpaid leave, sick day, or rest day.
Moreover, all the data from your DeskTime Absence Calendar is exported to the Work Schedules section, which makes scheduling shifts easier by letting you see who's absent and, as a result, unavailable. Shift Scheduling allows users to manage employees' workdays smoothly and easily. With this feature, you can create schedule templates, copy the existing ones, and generally operate with them as needed.
Clockify won't be an alternative either for the absence calendar or the shift scheduling option. For smaller companies or freelancers, these features may not be essential. However, employers dealing with large teams would greatly benefit from these tools offered by DeskTime.
IF YOU NEED:
an effective tool to manage project costs
CHOOSE:
Calculating the costs of a project before it's finished is never an easy task. Luckily, both DeskTime and Clockify provide project cost management options that help with accurate customer billing. Both apps offer calculating individual user costs, time spent working on particular projects, and more.
Clockify offers 4 billable rates to its users and a set of labor cost rates. The latter allows users to precisely define cost rates, see what the project charge for clients is, what is paid to the team, and if it's all in all profitable.
DeskTime offers setting up default hourly rates for all users and adapting them for specific projects. Moreover, it allows adding the allocated budget and project-specific hourly rates, which can be useful when calculating how much you should charge your client. When you're working on the project and tracking time that goes into it, you can see how your actual work stacks up to your estimate, and in the end the final invoice can be issued with absolute precision.
Overall, both apps can provide a helping hand with project cost management and communicating the final price to clients. Choose DeskTime or Clockify if your or your company's work is mostly project-based.
IF YOU NEED:
a time tracking solution that can be integrated with various project management apps
CHOOSE:
Although both DeskTime and Clockify are supported by various project management tools, the list of those that support Clockify is nearly twice as long. 15 project management integration opportunities, alongside Zapier that connects Clockify to more than 1,500 other apps, allows tracking the work time from the project management tool quickly and easily.
DeskTime can be integrated with some of the most popular project management apps, such as Trello, Basecamp, Jira, Asana, Zapier, and others. It also can be connected to Google and Outlook calendars to track offline time. However, Clockify provides more opportunities in this regard. Alongside the project management solutions that support the Clockify integration, 20 more tools categorized as "Productivity tools" are on the integrations list.
If you use various tools for project management or other work-related tasks, consider Clockify, as this time tracking tool's numerous integration opportunities could be well-suited for your needs.
IF YOU NEED:
to boost your and your team's productivity
CHOOSE:
Tracking the amount of time spent at work is important, of course, but if screen time is the only factor that is measured, there's quite a big risk of misleading assumptions about the work's efficiency.
DeskTime is the app you need if you want to measure not only the amount of work time but its quality as well. As the time tracking software tracks apps, programs, and URLs that are used throughout the day, it provides a useful overview of your working habits. It also marks if the app or URL is productive or not and provides an overview of the total productivity daily, weekly, and monthly. Note that the application or website productivity status can be changed by the account owner or administrator.
On average, productivity of a new DeskTime user is boosted by around 30%, as the tool allows you to spot inefficient habits and eliminate them. Clockify doesn't offer such an overview or analysis. Of course, it's possible to draw conclusions on your own, but it may not be that convenient or reliable.
DeskTime notices your idle time; it spots the absence of mouse movements or keyboard entries and switches to idle mode if no action has been taken for 3 minutes. This time is not tracked, so it doesn't mess up your productivity ratings.
Boosting your productivity, getting things done, and staying on top of your schedule sounds great, doesn't it? DeskTime is here to help.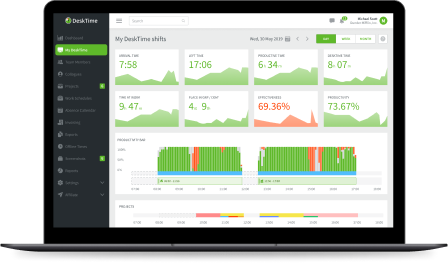 A tool that doesn't interrupt your workflow. Ever.
The perfect alternative to the Clockify time tracking tool
Fully automatic – works when you do

URL, app, and document tracking

Individual project and task tracking
Try free for 14 days. No credit card required.
By signing up, you agree to our terms and privacy policy.