DeskTime vs. Hours TimeLord: compare the alternatives
Compare the DeskTime and Hours TimeLord alternatives side by side and choose the time tracking app that fits your needs.
Free 14-day trial. No credit card required.
By signing up, you agree to our terms and privacy policy.

The best features side by side
Features

Paid monthly

Lite – free for 1 user only PRO – $7 /user/mo Premium – $10 /user/mo Enterprise – $20 /user/mo

Paid annually

Lite – free for 1 user only PRO – $6,42 /user/mo Premium – $9,17 /user/mo Enterprise – $18,33 /user/mo

Additional discounts apply for teams.

Paid annually:

Forever Free – free for 1 user Personal – $9.99/user/year Pro – $49/user/year Teams – $199/5 users/year

FREE trial
14 days
14 days
Time tracking
Automatic
Manual
Idle time tracking
Add time manually
URL tracking
Document title tracking
Reports
Individual project and task tracking
Auto screenshots
Project cost calculation
Employee absence tracking
Custom user settings
Stops automatically, no tracking after work hours
Private time option
IP restrictions for tracking
Productivity and efficiency analysis
Divide employees in departments
Live time tracking
Offline mode
Integration with 3rd party apps
1 integration with FreshBooks
Shift scheduling
Desk booking
Looking for an Hours TimeLord alternative? Choose a time tracking tool according to your necessities
IF YOU NEED:
analysis of your and your employees' productivity and efficiency
CHOOSE:
DeskTime time tracking software offers customized feedback on the tracked data. You can apply various filters to ensure that the report you receive has all the data you need. Such an overview contains analysis of your and your employees' productivity, efficiency, summary of time spent on particular tasks, what websites are used the most during your working hours, and more.
The DeskTime time tracking app lets you set up productivity status for apps and URLs – you can mark them as productive, unproductive, or neutral. As DeskTime tracks the used apps and visited URLs, it provides an analysis of productivity and efficiency levels within different time frames. DeskTime also has a Document title tracking feature which records titles of docs and files and the time spent on each of them. This is convenient for seeing which tasks take up most of your or your employees' time and also for accountability in front of your clients.
The Hours TimeLord time tracking app also offers reports that provide feedback. You can choose a detailed or summarized report, pick an employee whose work time analysis you'd like to see, divide the reports by tasks or projects, and set the time frame for tracked data. The Hours TimeLord app doesn't provide productivity or efficiency analysis which may fit users who don't need to analyze their work performance.
Having productivity and efficiency analysis at hand helps with identifying and eliminating inefficient habits, and it can boost your productivity by 30%. If you'd like to adopt more efficient working habits or identify your productivity peak hours, DeskTime is the time tracking solution you should choose.
IF YOU NEED:
a time tracking app that works with your Apple Watch
CHOOSE:
As an iOS app, Hours TimeLord undoubtedly is a convenient time tracking solution to use with Apple products. Moreover, Hours TimeLord can be used on Apple Watch.
In addition to being available on iPhone, iPad, and Mac, Hours TimeLord also tracks your time on Apple Watches. With this function, you can enter details about your tasks, start and stop timers, pause them, go on break mode, and more. The Hours TimeLord app also synchronizes the data between different devices. Whenever you add a timer, configure a task, or update anything else within your schedule, the data will be updated on all gadgets.
The Hours TimeLord time tracking app is specifically built for Apple product users. If you use non-Apple devices and prefer other operating systems, consider the DeskTime time tracking tool.
DeskTime is available on Windows, Mac, and Linux. You can download the DeskTime app from both App Store and Google Play, plus you can choose whether you'd like to use the desktop or mobile version of the time tracking software. DeskTime doesn't have a smartwatch-compatible version yet, so it won't be available on your Apple Watch. But if it's not the main need for you, DeskTime can be a good fit.
IF YOU NEED:
a simple timer-like time tracking app
CHOOSE:
The Hours TimeLord app tracks your work time by using timers. You can add a timer for each task and set them running while you finish your work. When you move from task to task, you'll need to remember to switch the timers in order to keep the tracking accurate.
The Hours TimeLord app displays a timeline that helps you manage the timers you've set. If you forget to track something, it'll appear as a blank space on your timeline, and you'll have to fill it in with data about your activities.
The Hours TimeLord solution doesn't offer automated time tracking, which means that each and every timer is set up manually. For those who'd like to have a time tracking solution that runs quietly in the background, DeskTime may be a better option.
The DeskTime time tracker starts and stops when you start and stop your workday. It doesn't require any manual data input or switching on/off. That can be especially useful when you're on a tight schedule. DeskTime takes care of time tracking while you're working hard with your head down. However, if timers feel more appealing to you, consider the Hours TimeLord time tracking app.
IF YOU NEED:
a team-friendly time tracking app that calculates project costs
CHOOSE:
Both time tracking solutions have features that allow managing work time for teams. Moreover, the two are easy to use when you need an overview of the time your team has spent on a particular task or project.
The DeskTime Projects feature allows a team to work on the same project while tracking time, and later it gives an overview of the collective efforts. There's also an option to divide the feedback individually so the project manager can see how much time each member of the team has contributed to the project. Additionally, DeskTime offers the Project costs feature. When you've calculated the project time, it's easy to convert it into money – set the hourly rates for the team and let DeskTime automatically calculate the project costs and issue an invoice for a client.
The Hours TimeLord app also has an Invoicing feature. You can easily customize your invoice by adding all the necessary details regarding the project activities, amount of time spent on those activities, and hourly rates for the particular tasks. When you create an invoice from your Hours TimeLord report, you can choose what to include, edit the data, and add timer notes if needed.
Hours TimeLord can help with communication between the team's manager and its members. Employees don't need approval from the manager to start tracking their working time. They can add a timer, attach it to their team, and start tracking. The manager later decides how to act on team members' time entries – approve, decline, or merge them with another project if necessary.
DeskTime also has some benefits when it comes to using the app for team management. The app can be integrated with various project management tools, such as Asana, Jira, Zapier, Trello, Basecamp, Google Calendar, GitLab, and more. Integrations won't let any important data regarding projects pass you by. Plus, the Team's Contacts feature on DeskTime eases the communication within the company. All contacts are kept in one easy-to-access place, which makes communication faster and smoother.
IF YOU NEED:
help managing employee shifts
CHOOSE:
Spreadsheets are thought to be golden when managing your employees' shifts. But are they, really? When you reach a certain number of employees at a company, scheduling shifts can become a bit of a struggle.
DeskTime offers a built-in employee Shift Scheduling tool. With this feature, you can plan shifts and get a detailed overview of your employees' performance afterwards.
When scheduling shifts with DeskTime, you can create templates for future use, which saves up a significant amount of time on managing employees' work hours. Plus, the feature offers flexibility for your workers. The scheduling tool allows employees to request shifts they prefer. Managers can take their preferences into account and schedule shifts accordingly.
Hours TimeLord doesn't offer any options or features related to employee management or shift scheduling. For small companies or freelancers, that may not be crucial, and the Hours TimeLord time tracking app can be a suitable option. However, for growing businesses and companies that rely on a precise shift management system, DeskTime's Shift Scheduling feature can save a significant amount of time and energy and help with organizing shifts according to employees' preferences.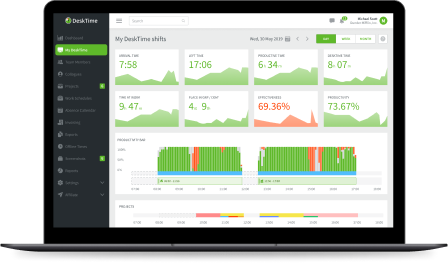 A tool that doesn't interrupt your workflow. Ever.
A more team management-friendly alternative to the Hours TimeLord time tracking app
Fully automatic – works when you do

URL, app, and document tracking

Individual project and task tracking
Try free for 14 days. No credit card required.
By signing up, you agree to our terms and privacy policy.