Magic invoices: how to create invoice templates that automatically fill themselves out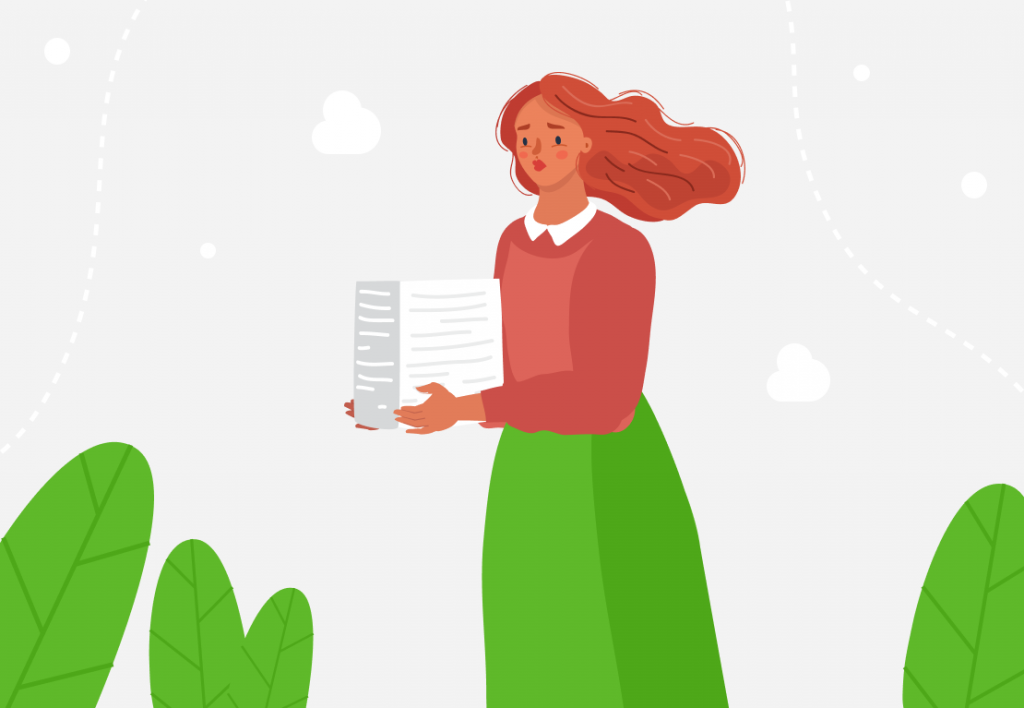 Ah, invoices. The thing that businesses literally can't live without, yet let's be honest, no one really gets excited about the prospect of creating invoices or filling out business invoice templates.
Whether you're an established business with a bookkeeping team, an agency working with a ton of different clients, or a freelancer who just wants to focus on what you do best, DeskTime invoice templates can save hours of work for everyone involved. 
The DeskTime invoice feature lets you invoice clients for the time that's spent working on their projects by anyone in your organization. Because the time tracked is used as a calculation for hours put in, it makes sure your invoice has maximum accuracy. What's more – you'll never underbill, which is a typical issue for hourly-billed invoices.
Here's how the automatic invoicing feature works:
Set your billable rates per employee
Track time spent working for a specific client as "project time"
Build an invoice and list the tracked "project time" – the sum due is automatically calculated*
Save it as an invoice template for future use
*The automatically calculated time based on tracked project time is optional – you can omit this step and enter your invoicable items manually.
Making an invoice using the automatic invoice feature can save you hours of work, so let's get into it!
1. Set your billable rates per employee
In order for DeskTime to be able to automatically calculate how much you're owed, you first have to set your hourly rates. You can do that by either setting an hourly rate for an entire team, or individually for each team member.
To set an hourly rate for your entire team, go to Settings on the left-hand menu → choose Teams → click the three dots next to the team you want to edit → click Edit → under the Geo block set your default hourly rate.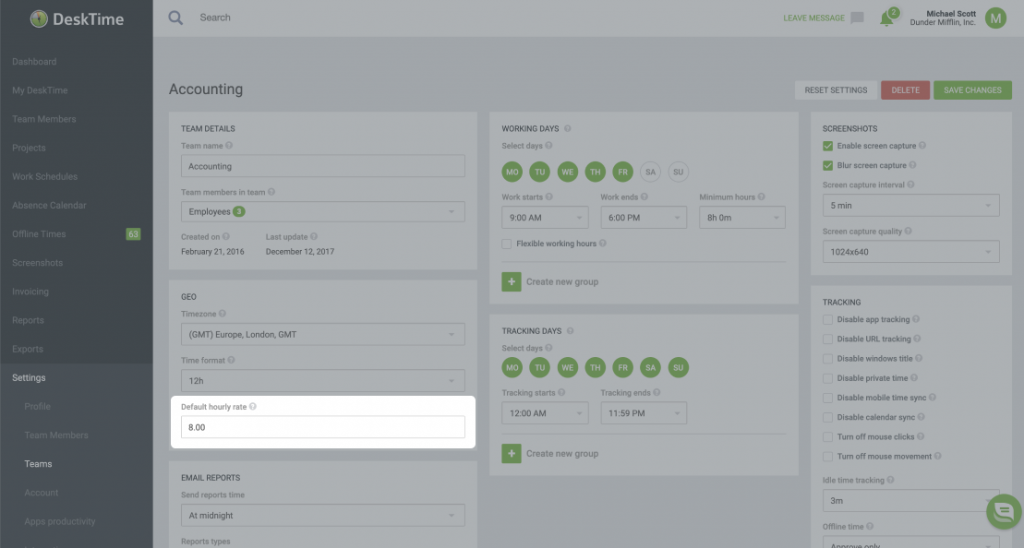 To set an hourly rate for individual employees, go to the Settings in the left-hand menu → choose Team Members → click the three buttons next to the employee you want to edit → click Edit → set Default hourly rate under the "Geo" block.
2. Track time spent working for a specific client as "project time"
Using the project feature to track time on specific clients and tasks is essential to making an invoice with all the hours tallied up.
Make sure that everyone working on the client is using the same project name to track (project names are shared among the company, so you can create one project name, and others can search for and find them), and make sure to turn on that project when starting to work for that client.
You can do that by clicking on the DeskTime desktop icon (top right corner for Mac users, bottom right for Windows users) → Create a project / Search for a project → name or select your project.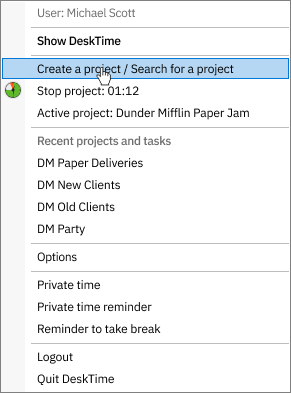 3. Build an invoice and list the tracked "project time"
Once you're ready to fill out and issue an invoice for the work put in, go to the Invoicing section in the left-hand menu and click Create invoice.
Here you fill out all of the details you would regularly see in an invoice template – your own company details, your client's company details, invoice number, the date the payment is due, your company logo, etc.
But then you get to the Invoice positions section, and here's where it gets interesting.
Here you can either write in a position manually, or you can choose to allocate time tracked from a specific project. You can do that by clicking on the Add project time button.
Select whose tracked time you want to count (specific employees or entire teams), and set the dates that you worked on the project. Then identify which project and task that was, and finally, choose if you want to bill only for the time spent productively, or for all time spent when tracking that project.
Click Save, and the sum due will automatically be calculated by taking into consideration the hourly rates of the employees you selected and the amount of time that they tracked within the specified project.
Put the finishing touches on the invoice, like adding how much % tax has to be applied, as well as any discounts you want to add. It's all calculated automatically, saving you even more time.
4. Create a custom invoice template for future use
Once you're happy with the details, before clicking Save Invoice, tick the Save as template box to speed up the invoice making process even more next time.
In future cases, you'll be able to simply click Create invoice and then choose your invoice template, and all of the payment and legal details will be done for you. No need to worry about creating an appropriate invoice layout or good invoice design – DeskTime creates professional-looking invoices for you.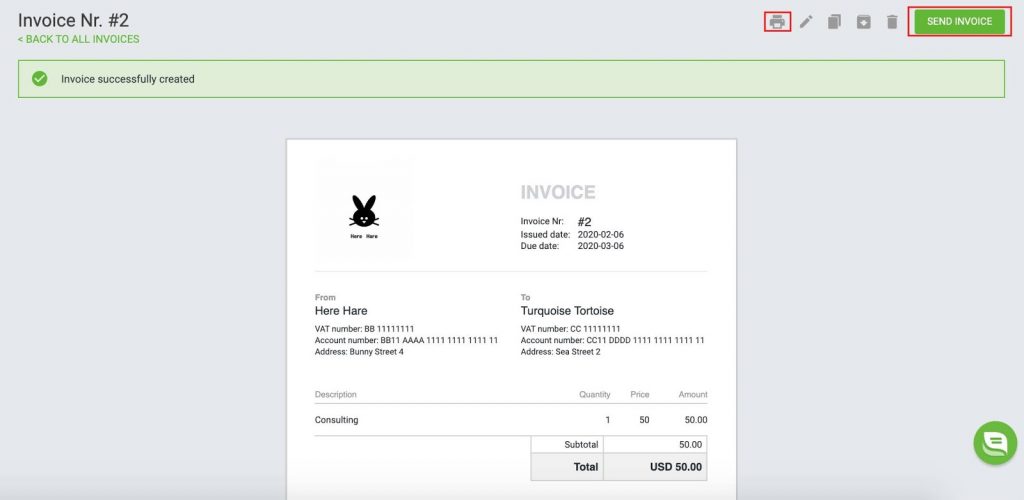 When you've finished making the invoice and sent it to your client, you'll be able to update the invoice status (sent, paid, unpaid) see your invoicing data in your dashboard – how much you've invoiced for, how much has been paid, and how much is still outstanding.
Save hours every month with automatic invoicing and invoice templates
With saved invoice templates, automatically calculated amounts due based on project time, automatically calculated tax percentages and discounts, the DeskTime invoicing feature stands to save whoever's doing the invoicing hours of manual work every month. Besides saving time, there are other business reasons for using DeskTime invoice templates, like better invoice management and professional-looking invoice design.
What's more – using the amount of tracked project time to calculate costs brings a new level of transparency to making invoices. For freelancers and agencies that chronically undercharge, this is a game-changing tool that can help you make invoices with confidence. Don't take it from us, read this case study with this PR and marketing agency.
To start using the invoicing feature and invoice templates, make sure that you're on the Premium or Enterprise plan. Or try a 2-week free trial with all of the features by signing up with DeskTime here.
Did you find this article useful? Give it a clap!
Psst! You can clap more than once if you really loved it 🙂